Rarely has a World Cup had so many critics. Not for the game of football of course, but obviously for the venue of this great international event: Qatar. On the one hand, there are those who, openly, in the artistic milieu have brandished their boycott. Like the singer Dua Lipa who firmly refused to participate in the show framing the final. Known for her environmental and humanitarian positions, the Briton did not hesitate to announce on Twitter on November 13: "There are a lot of rumors that I will sing at the opening ceremony of the World Cup in Qatar. I'm not going to do it and I've never been in negotiations for it. I will be cheering England on from afar and look forward to visiting Qatar when they fulfill all the human rights promises they made when they won the right to host the World Cup.." With this statement, the singer echoes in particular the 6,500 workers who died on the construction sites of the World Cup.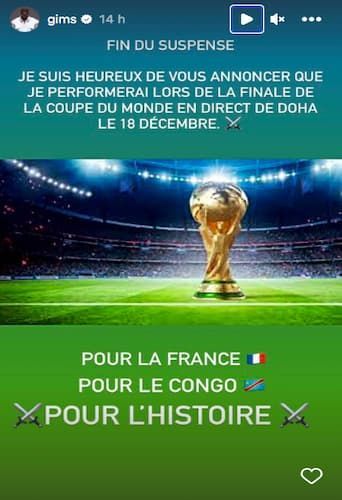 Nearly sixty international artists are expected
Other artists, about sixty, not wishing to mix sport and politics, have for their part accepted to perform during the numerous shows planned, taking place mainly in Doha, the capital. This is the case of Robbie Williams, Maroon 5, David Guetta, Enrique Iglesias but also… of Gims. It was on his Instagram account that the singer announced his participation very enthusiastically: "I am happy to announce that I will be performing at the World Cup Final live in Doha on December 18th." And to underline, as a cry of victory: "For France, for the Congo, for History." Let's hope this brings luck to our Blues!
France Live