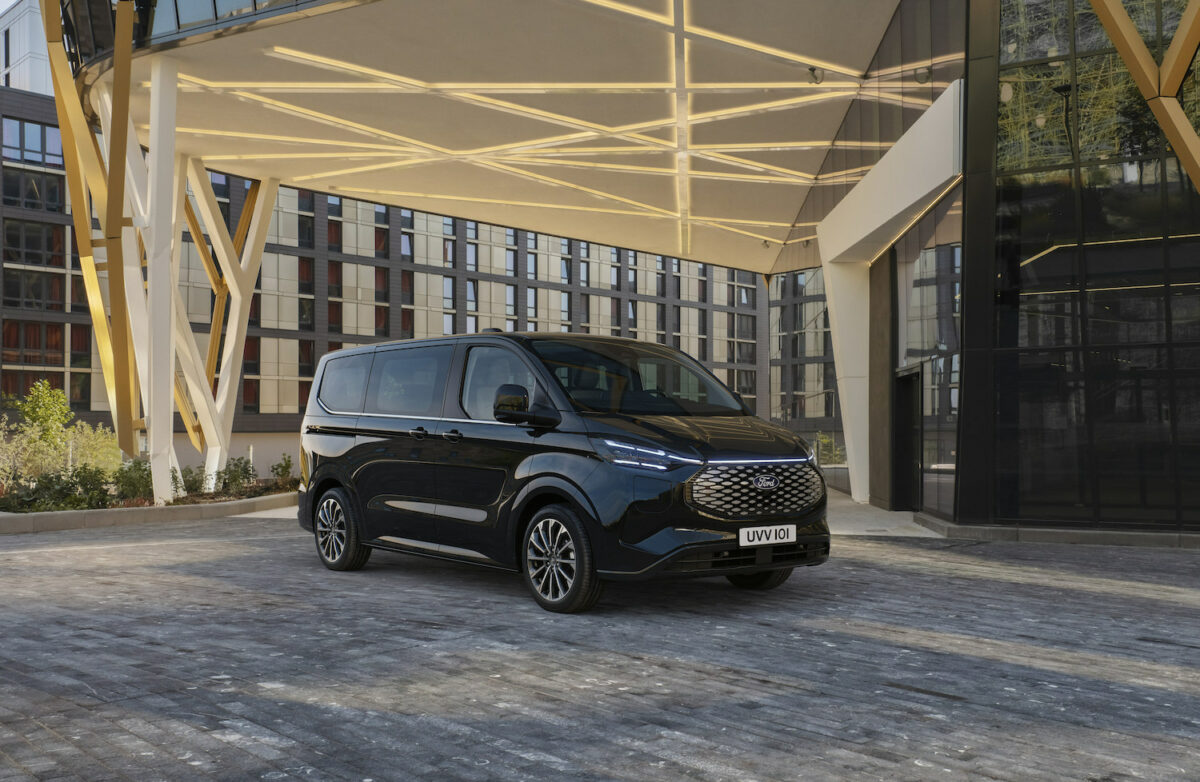 After the new electric utility Transit Custom, here is the version for transporting people, the E-Tourneo Custom, with a range of 370 km.
Like the utility that serves as the base, the new generation of the Tourneo Custom is offered in a 100% electric version. The model has a 160 kW motor, which offers a one-pedal driving function. There is a battery with a useful capacity of 74 kWh. Ford announces a combined cycle range of 370 km.
Ford indicates that an on-board 11 kW three-phase charger (alternating current) is capable of fully recharging the battery in less than 8 hours. It takes about 40 minutes to go from 15 to 80% charge with the 125 kW (direct current) fast charger. Advantage of the model: it has a towing capacity of two tonnes.
Thanks to its new platform which integrates the battery well, the model can accommodate up to 9 people, with three rows of three seats. It is therefore aimed at large families or professionals specializing in troop transport (taxis, hotels, etc.). The seats in the last two rows are now on rails, which makes it possible to modulate the space. Those of the second are even independent and can turn around, for a conference space for six.

Read also
Ford E-Transit Custom: the 100% electric van that is more connected than ever

Access to the rear is via two sliding doors which can be electric with an opening function by sliding your foot under the bodywork, ideal when your hands are full. A step has been created to facilitate boarding. Even if there is a battery, Ford has been able to optimize the height of the vehicle, to make it pass under two meters and thus allow access to underground car parks.
Proof of an evolution of these models derived from utilities, which are also intended to replace abandoned minivans (Ford will discontinue the Galaxy in 2023), there is a real move upmarket in equipment. The chic Titanium X model is displayed with 19-inch rims and Matrix-type LED optics. You can also have a panoramic glass roof, a B&O 14-speaker sound system, three-zone auto air conditioning, 360° vision, autonomous driving assistance…
The E-Tourneo Custom is also at the top when it comes to screens, with 12-inch digital instrumentation and a central 13-inch touch screen, coupled as standard with Apple Car Play and Android Auto wireless connection. The vehicle is connected, owners can thus remotely manage and monitor their charge, precondition the battery and the passenger compartment, lock the doors, etc.
Note that the Transit Custom will also be offered as a plug-in hybrid. This version uses a 2.5-liter Atkinson cycle petrol engine, combined with an electric motor (the power is not known) and an 11.8 kWh battery allowing a range in electric mode of more than 50 km.
The model will be available mid-2023.