My dear impertinents, dear impertinents,
This week in the Norman Grenier newscast, I suggest you think about the rules that must be applied to avoid being plucked, ruined, despoiled, stolen, in short, how to make your money stay your money, your grisbi stay your grisbi and as they say among uncle gunslingers… don't touch the Grisbi!
Bubble after bubble, generation after generation we repeat the same mistakes. Children always have a hard time learning from their fathers or grandfathers!
The first thing you have to do is take an interest in your money, because if you let others take an interest in your money more than you do, then they will invest the money in their interest and not in yours. .
The second is to train yourself, to learn, and to take the time to read, to study, to work on these subjects. Better that you spend a few hundred euros on (affordable) magazines, books and training as this will save you losses which can most often amount to thousands of euros.
The third is to always check where you are sending your money! When it's to a paradise island, the Bahamas, the Cayman Islands, know that there is a significant probability that you will send your money to… a shark island and the prey is you.
The fourth ? When it's blurry, there's a wolf! You must understand, if you don't understand, it's not you who are stupid, it's your interlocutor who doesn't want you to understand! Everything is understandable, even the expansion of the universe and the galaxies moving away from each other!
The fifth ? When there is doubt, there is no doubt. Run away.
For everyone else? Listen to the video!
Here, again, no absolute truth, but lines of thought to gain height and anticipate what could happen to protect you, you, and those you love, those who are important to you.
It is already too late, but all is not lost.
Prepare yourselves !
Charles SANNAT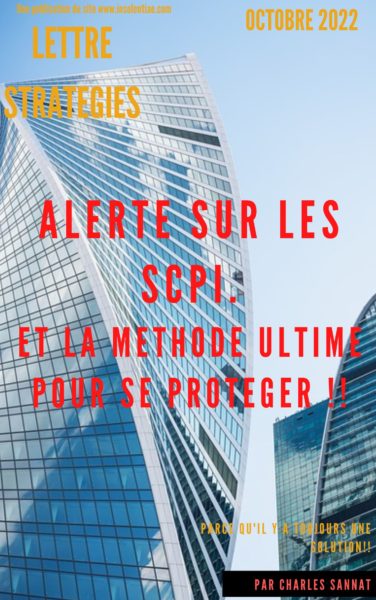 "Insolentiae" means "impertinence" in Latin
To write to me charles@insolentiae.com
To write to my wife helene@insolentiae.com
You can also subscribe to my monthly newsletter "STRATEGIES" which will allow you to go further and in which I share with you the concrete solutions to implement to prepare you for the next world. These solutions are articulated around the PEL approach – heritage, employment, location. The idea is to share with you the means and methods to put in place your personal and family resilience.
"To stifle peaceful revolutions, one makes violent revolutions inevitable" (JFK)
"This is a 'presslib' article, that is to say free of reproduction in whole or in part provided that this paragraph is reproduced following it. Insolentiae.com is the site on which Charles Sannat expresses himself daily and delivers an impertinent and uncompromising analysis of economic news. Thank you for visiting my site. You can subscribe to the daily newsletter free of charge at www.insolentiae.com. »